Electric vehicles at cultural venues
By 2020, over 30% of cars on the road in Milton Keynes will be electric. As a result we are aware of the role we have to play in creating improved charging infrastructure for these vehicles, particularly at our cultural venues. Not only will this help increase the uptake of electric vehicles but encourage visitors to plug in as they enjoy our city's main attractions.
We are already working with many cultural venues to assist them in installing charge points, with a view to launching 4 destinations by April 2019 as electric vehicle ready.
Bletchley Park has become the first cultural venue to access the destination charge from the Go Ultra Low Programme. The installation of their charge point took place on 05 April 2018 and has already proved popular with visitors and staff alike.
On 31st August 2018, The Stables became the second cultural venue to install charge points through the Go Ultra Lowe Programme. The venue has three charge points open to both visitors and staff.
We are supporting other venues as they explore their suitability with the Go Ultra Low Programme, these include:
MK Museum
Bradwell Abbey / Milton Keynes City Discovery Centre
If you are a cultural venue in Milton Keynes and would like to find out more about the Destination charge programme please contact helen.thakrar@milton-keynes.gov.uk
Associated links:
EVEC Centre
www.evexperiencecentre.co.uk 
Artist designed wraps
In 2017 Pedalling Culture awarded 3 commissions to artists to design 2 car wraps each that would be used on electric vehicles run by the Electric Vehicle Experience Centre (EVEC) in Milton Keynes. The aim was to  create eye catching mobile art, taking art out of the gallery environment and putting it into the community. As a result, we have created talking points, which not only raises the profile of art in Milton Keynes, but encourages people to find out more about electric vehicles and EVEC. The strong visual identities have been created through the use of vinyl wraps, which celebrates artist led design by offering it a prominent mobile platform.
The cars are unique to Milton Keynes and available to the public for test drives and short term leases. They will also be used in events and promotional activities to help raise the profile of the cultural offering of Milton Keynes.
Look out for the cars out and about in Milton Keynes;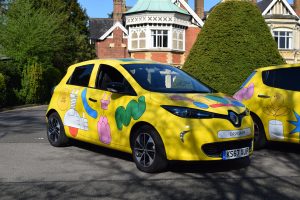 Designed by Tom Guilmard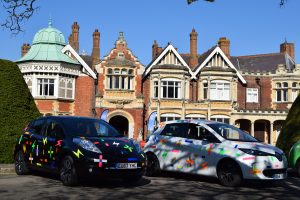 Designed by Eleanor Vonn Brown & Fraser Muggeridge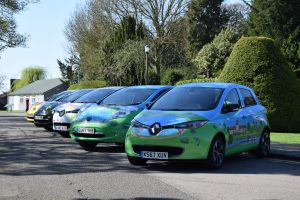 Designed by Rob Cowan
Read all three artists submissions here:  Artist Submissions
Driverless pods
For anyone looking to take advantage of the driverless pods that will soon be operating throughout Central Milton Keynes, Pedalling Culture will ensure that all cultural information is readily available to them to allow them to reach their chosen destination safely by the designated routes.
Press release
self-driving-pod-trials-officially-underway-in-milton-keynes