Pedalling Culture partnered with 17 cultural venues across Milton Keynes in December 2018 and again in April 2019.
The aim of this was to encourage people to explore MK's culture via  sustai​nable transport.
Find out more about our Passport and Postcard campaigns:
Pedalling Culture Passport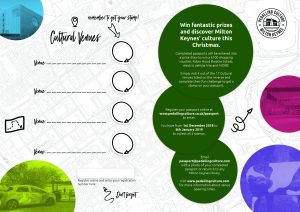 In December 2018, cultural venues and libraries across Milton Keynes came together with an exciting new campaign in a bid to encourage people to explore the city's heritage.
Pedalling Culture launched a unique Cultural Passport, which was recognised at 17 Milton Keynes venues – from MK Museum and The Stables, to Bradwell Abbey and Westbury Arts Centre.
To complete the Cultural Passport challenge, participants simply needed to visit and explore FOUR of these venues,* between 1st December and Sunday 6th January 2019, receiving a stamp in their passports at each site.
Cultural Passports were available at all participating cultural venues, The EVEC centre on Silbury Blvd, any of the libraries across Milton Keynes, or they could be downloaded on this website. Please see attached an example of the Passport.
All completed passports were entered into a prize draw to win some fantastic prizes, including a £100 intu Gift Card and Robin Hood Pantomime tickets.
Pedalling Culture Postcard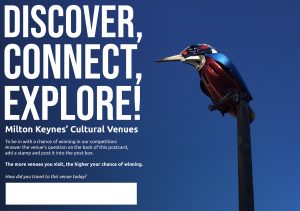 Amy, a robot waitress who became a Milton Keynes sensation through MK Central Library's Robot Café, officially launched Pedalling Culture's Postcard to get people visiting the city's libraries and cultural venues in April 2019.
Through Pedalling Culture, the Postcard aimed to encourage people to explore the city sustainably, whether on foot, bike or electric car, while visiting cultural venues. Plus – there were a host of prizes to be won including £100 intu voucher!
Participants simply had to pick up a Cultural Passport at any of the participating 17 Milton Keynes venues – from MK Museum and The Stables, to The City Discovery Centre and Westbury Arts Centre and the newly opened MK Gallery, answer a question on the back of the passport relating to the venue, and post it into the post box to receive a badge.
Free to enter, the Cultural Passport was available from 1st April to the 30th April.
To view our Cultural Venues, click the link below.